Top Universities in Ireland for Engineering
The engineering profession in Ireland experienced a significant increase in recruitment demand during 2019. According to a survey by Engineers Ireland, more than 6,000 job openings for engineers were created in 2019. Demand is expected to rise over the years alongside Ireland's strong economic growth.
Given the increase in demand, engineering employers note a shortage of experienced engineers. Some of the skill shortages highlighted in the National Skills Bulletin of 2018 represented engineers in the fields of automation, chemical, civil, design, electrical, mechanical, process, quality control, and validation. So this is your opportunity to fill that gap: get yourself over to Ireland and get your engineering degree from one of the five universities we list below.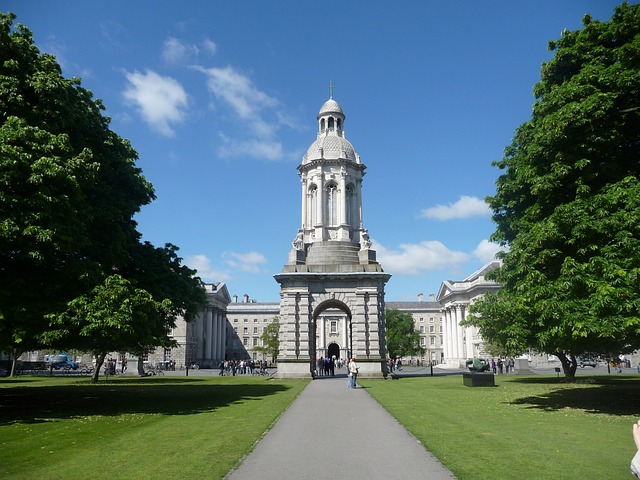 1. National University of Ireland, Galway
The National University of Ireland, Galway (NUI Galway or NUIG) is one of the top universities in the world. NUIG was founded in 1845 as the Queen's College Galway and is among the three Queen's Colleges in Ireland. In its first academic year, the school opened with three faculties: Arts, Medicine, and Law, as well as schools of agriculture and engineering. NUIG is also believed to have had the first female civil engineering graduate in the world to receive First Class Honors.
NUIG College of Engineering and Informatics has ranked in the world's top 175, making it one of the best universities for engineering students. Graduates who wish to proceed with postgraduate degrees can take up a Master's of Engineering (MEng) or a Master's of Science (MSc) in:
- MEng, MSc Biomedical engineering
- MEng Civil engineering
- MEng Electrical & electronic engineering
- MEng Electronic & computer engineering
- MEng Energy systems engineering
- MEng, MSc Mechanical engineering
- MSc Software engineering and database technologies
NUIG's active research program is well funded. Elements of research are managed as a part of bigger institutes in the university, including the:
- Data Science Institute
- Network of Excellence for Functional Biomaterials
- Ryan Institute for Environment, Marine, and Energy
- National Centre for Biomedical Engineering Science
2. Trinity College Dublin
Trinity College Dublin (Trinity) is one of the country's highest-ranked universities, placing first in the QS World University Ranking 2019 for Irish universities. Trinity was founded in 1592 by royal charter and now has three faculties: Engineering, Mathematics and Science; Health Sciences; and Arts, Humanities, and Social Sciences. Among its notable graduates are Oscar Wilde, William Rowan Hamilton, Edmund Burke, Ernest Thomas Sinton Walton, and Mary Robinson.
Trinity's school of engineering is composed of 3 departments:
- Civil, Structural and Environmental Engineering
- Electronic and Electrical Engineering
- Mechanical and Manufacturing Engineering
In the early years of the school, studies on structural and hydraulic engineering were highlighted in the curriculum but these were later reconstructed to include other engineering courses. Its program currently includes 5 Master's courses that produce approximately 50 postgraduates per year. These courses include:
- MSc in electronic information engineering
- MSc in mechanical engineering
- MSc in bioengineering
- MSc in engineering (transport, sustainable energy, environmental, and structural and geotechnical)
- MAI (Ind.) Master's in engineering
The MAI (Ind.) degree is a two-year workplace-based degree program performed under the supervision of a Trinity academic. It requires a candidate to prepare a dissertation on research done in the candidate's professional or work environment.
3. University College Cork
University College Cork (UCC) is an award-winning institution that was founded in 1845 as Queen's College Cork. It prides itself for being ranked in the top 2% of universities in the world. One of the most notable moments in its history was the appointment of the first female professor, Mary Ryan, in Ireland and the United Kingdom. Starting with only 115 students when it first opened its doors, UCC now has over 20,000 students in 20 academic schools and departments.
UCC's School of Engineering has a long and proud tradition in engineering excellence that dates back almost a century. It offers various engineering disciplines including:
- Civil, structural and environmental engineering
- Electrical and electronic engineering
- Energy engineering
- Mechanical engineering
- Process and chemical engineering
Most of the Master's degrees offered by the school are full-time programs that run for 12 months from the date of registration, except for the Master of engineering science (MEngSc) in pharmaceutical and biopharmaceutical engineering. This program runs for 24 months (full registration) to a maximum of 60 months. Some of the Master's degrees offered are:
- MEngSc in electrical and electronic engineering
- MEngSc in engineering (sustainable energy)
- MEngSc in information technology in architecture, engineering, and construction
- MEngSc in mechanical engineering (manufacturing, process, and automation systems)
- MEngSc in pharmaceutical and biopharmaceutical engineering
4. University College Dublin
University College Dublin (UCD) is a research-intensive university in Ireland's capital city. It has been ranked within the top 1% of higher education institutions worldwide, making it the country's most 'global' university. UCD was established in 1854 as the Catholic University of Ireland and later on as the Royal University. Among its famous graduates are Maeve Binchy, Roddy Doyle, Brendan Gleeson, V.V. Giri, and James Joyce.
UCD's College of Engineering and Architecture is the largest and most comprehensive engineering and architecture college in Ireland with over 320 staff and 2,000 students. The college is home to 6 schools of engineering:
- Biosystems and Food Engineering
- Chemical and Bioprocess Engineering
- Civil Engineering
- Architecture, Planning and Environmental Policy
- Electrical and Electronic Engineering
- Mechanical and Materials Engineering
Students pursuing a Master's degree in engineering can take up MEngSc and MEng programs, each of which has different credit requirements. MEngSc students must complete 90 credits while MEng students require a workload of 60 credits. Below are some of the programs offered:
- MEng Biomedical engineering
- MEngSc Civil, structural and environmental engineering
- MEng Electrical energy engineering
- MEngSc Electronic and computer engineering
- MEng Mechanical engineering
- MEngSc Materials science and engineering
5. University of Limerick
The University of Limerick (UL) is a young and enterprising university that was established in 1972 as the National Institute for Higher Education, Limerick. It has been voted as Ireland's most popular university with a satisfaction rating of 85% by Irish students. UL pioneered the concept of Cooperative Education in Ireland, which helped assign more than 2,000 students to both paid and expensed work placements. The university prides itself for being the home of some of the most innovative and successful research centers in the country, including the Nexus Innovation Center, a grouping of entrepreneurs which helps startups grow.
Its Faculty of Science and Engineering offers more than 18 academic degree programs in the fields of design, engineering, computing, mathematics, and science. The faculty's extensive research capabilities boast excellent research institutes, centers, and groups. Some of the UL courses in engineering that are offered include:
- Aerospace engineering
- Construction management and engineering
- Chemical and biochemical engineering
- Biomedical engineering
- Mechanical engineering
UL's postgraduate courses are delivered in a dynamic and innovative environment. As the home to the Bernal Process Engineering Lab, UL gives students access to its state of the art research equipment and facilities. UL's School of Engineering offers MSc and MEng courses including:
- MSc in aeronautical engineering
- MSc in advanced engineering materials
- MSc in biomedical device materials
- MEng in mechatronics
- MSc in mechanical engineering